A+ solutions for students
We are proud to partner with Credit Union Student Choice in offering our members a valuable student lending solution!
In-school and refinance loan options
Competitive rates and unique loan terms
A better way to pay for college.
Zero origination fees, lower student loan rates and flexible repayment terms.
Unlock a world of possibilities with a college education, even if the cost seems daunting. Our partnership with Credit Union Student Choice offers Private Student Loans at affordable prices, bridging the financial gap for students pursuing education both in Connecticut and out-of-state. Enjoy zero origination fees, low interest rates, an easy online application, and deferment of principal and interest while in school. With flexible repayment options, including a graduated plan, secure your entire college journey with one convenient line of credit*.
Student Loan Consolidation and Refinance
Simplify your post-college life and boost your finances with Credit Union Student Choice's Refinance Student Loan solution. By refinancing** and consolidating your loans with a trusted local lender, you can enjoy a reduced interest rate and a more manageable single loan. Ideal candidates possess a strong credit history or have a reliable co-signer, making this opportunity even more enticing.
Visit the Student Choice website to find articles about the financial aid process, easy-to-use calculators, glossary of common terms, a scholarship search tool, and a simple online application process.
Student Choice's National Webinar Series covers a variety of topics to help you navigate the necessary steps to make smart decisions about paying for college - and beyond. Visit our Events Calendar to see if a live event is happening soon, or visit the Student Choice website to view past recorded webinars at your leisure.
6 Tips for your First Credit Card
Getting your hands on your very first credit card can be a thrilling experience. However, before you plan everything you want to buy, it's important to understand how credit cards work.
6 Tips for Your First Credit Card
Resources to support your financial goals
Financial flexibility at your fingertips
Enjoy spending power with cash back, redeemable rewards points, and lower interest rates.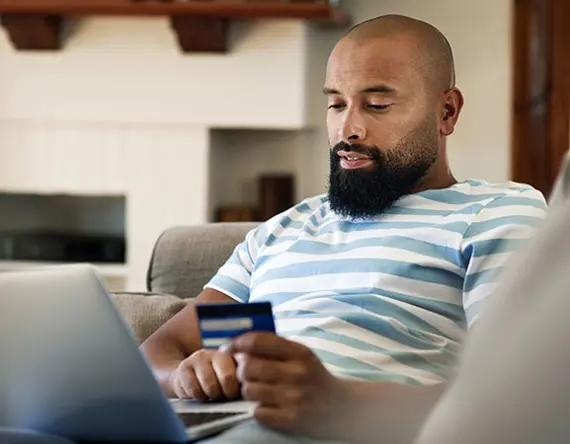 * Subject to qualification and annual credit review.
** Remember, if you refinance federal student loans, you may lose certain borrower benefits from your original loans. These may include interest rate reductions, principal rebates, or some cancellation benefits that can significantly reduce the cost of repaying your loans.